Cattery Calvencade Cats
Siamese and Oriental Shorthair
Helmond, the Netherlands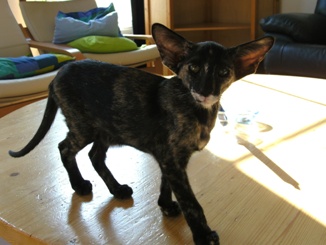 Calvencade Cats Kyras Revenge, black tortie oriental shorthair.
We breed Siamese. Siamese in the colour Seal point Siamese in the colour Blue point Oriental shorthair. Oriental shorthair in the colour Ebony Oriental shorthair in the colour Blue
The siamese colours we also breed with tabby markings, these are stripings in legs, mask and tail. Also known as lynx-point.
We also have Foreign White, in Europe they are called the 'siamese in white'.
If you want to know more about our hobby and our cats then call us : 0031-492592077.
Information

Our E-mail address: k.vanderheide@calvencadecats.nl
Created by Klaas van der Heide �1999
Last update: 12/8/09
Contact the Webmaster