Cattery Calvencade Cats
Siamese and Oriental Shorthair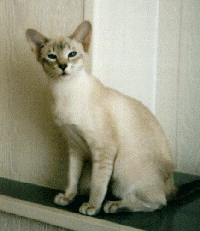 Calvencade Cats Tabby's Ginna (32/2)
by Eur.Gr.Int.Ch. Silver Fox' Zodiac (24a) & Gr.Int.Ch. Atahualpa Emily (32/2)

The tabby point
First of all, in Europe we call the lynx-point a tabby-point siamese. Americans call them Colourpoint Shorthair. A typical feature of the tabby point is the M-mark on the top of the head. The head, paws and tail have a typical striping. The tabby gen is a dominant gen.That means, every time you mate a tabby-point with a non-tabby-point, the litter will be theoretically 50% tabby-point and 50% non-tabby-point.
Common mistakes in the siamese tabby-point are:
spotting on the back and the flanks.
ticked ghost marking on back and flanks.
irregular striping on the points.
Ginna and her sister Jutti together above the stove.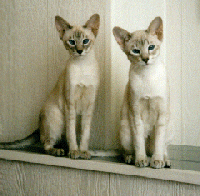 A funny thing about these two sisters is that, although they are look-a-likes, you can distinguish them by looking at their rhinoscope. Ginna has a real tabby-spot on her rhinoscope, (just like the cat on the Brekkies food), and her sister Jutti has a solid blue rhinoscope. Both variants are allowed.
We wrote an article about tabbyies, it's in Dutch, where you can read more about the history and inheritance of the tabby point siamese.

In the standard of points you can read more about characteristics of this breed.

Ons E-mail adres: Calvencade Cats
Created by Klaas van der Heide �1999
Last update:13/08/09
Contact the Webmaster